Ultraviolet -preview-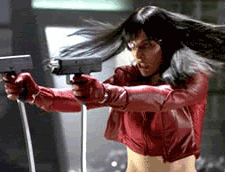 Plot:
"Set in the late 21st century, a subculture of humans have emerged who have been modified genetically by a vampire-like disease (Hemophagia), giving them enhanced speed, incredible stamina and acute intelligence, and as they are set apart from "normal" and "healthy" humans, the world is pushed to the brink of worldwide civil war (a war between humans and hemophages) aimed at the destruction of the "diseased" population. In the middle of this crossed-fire is - an infected woman - Ultraviolet (played by Milla Jovovich), who finds herself protecting a nine-year-old boy who has been marked for death by the human government as he is believed to be a threat to humans.
Source
Starring Milla Jovovich, who I just love and adore, and a lot of other people I never heard of, this movie seems like it will be an absolute blast to watch.
Supposedly, she does a lot of martial arts and swordplay, so that hits the "rocking on high volume" meter for me every time.
It reminds me of Blade in some fashion but since the society that she lives in is a bit different, hopefully it won't be too reminiscent of that series.
I normally cannot stand the thought of any humans under the age of 17 in the movies I enjoy, but I guess I can put this aside to see Milla kicking some major ass and looking fine as hell.
Oh, the things that we do for our fleeting moment of enjoyment.
Anyway, according to imdb.com, the movie seems to be complete, so it should be out this summer hopefully, and hopefully it won't be a total bomb.
You can view a trailer
here.