Yaoi Manga Offering of the Day - By Your Side
I am going to start offering manga scanlations for download that I come across periodically, so the titles will usually say
YMOofD
, which stands for um..."Yaoi Manga Offering of the Day"...yeah, that makes sense.
Enjoy!
Get "By Your Side"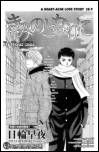 Synopsis:
Boy meets other boy as he falls on top of him attempting to commit suicide *maybe*
Boy falls in love.
They discuss life and death, and happiness.
Kind of a long one shot story, very realistic in some ways and they are very friendly with each other before sex even comes into play.
Kinda romantic.
Mangaka:
Souya Himawari
Scanlation Team:
Sweet-lunacy
****And remember:
'YAma nashi,Ochi nashi, Imi nashi'
No mountain, no point, no meaning
Janeeee! ^_^